Monday 25 Sep 2023 @ 11:15
NEPO
NEPO and Bunzl Greenham team up to clean beach
The NEPO team rolled up their sleeves to help supplier Bunzl Greenham clean up unwanted litter on the Durham Heritage Coast.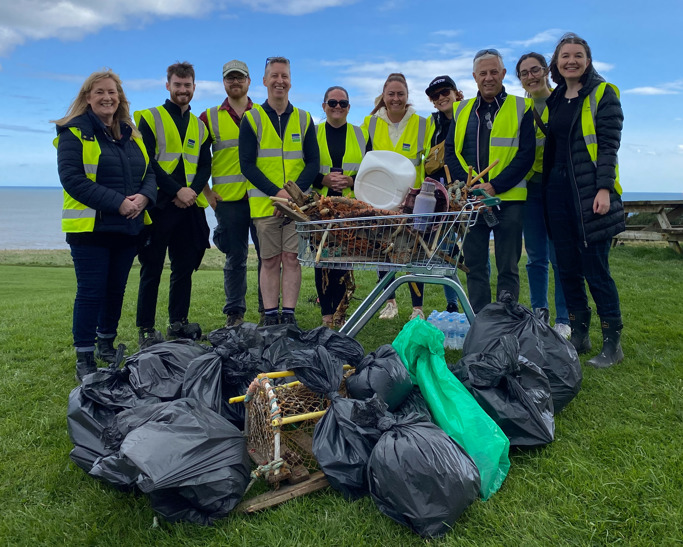 Left to right: Julie Garvin, Jake Pattison, Callum Thompson from NEPO, David Fox from Bunzl Greenham, Michelle Armstrong, Stephanie Westgarth, Emanuela Codara, Keith Lamb, Faustina Tolosa, Rachel Bruce from NEPO
Armed with litter-pickers and binbags, colleagues from NEPO and Bunzl Greenham took to Jackie's Beach in Whitburn, marking just one of a series of community volunteer days organised in collaboration with SeaScapes, celebrating marine heritage from the Tyne to the Tees.
David Fox, regional sales manager for the North East at Bunzl Greenham, said: "We like to think that we're not just a provider to industry, we want to give back to the communities we work in. The recent beach clean has a really good feel-factor to it. We're doing our bit to give back to the residents and visitors of Jackie's Beach and help the environment thrive, and we're thrilled to have NEPO colleagues along for the ride."
Nine team members from NEPO volunteered their time to participate in the beach clean as part of the procurement organisation's commitment to social value and the environment.
Keith Lamb, social value and supplier coordinator at NEPO, recently said:
"Social value forms part of our procurement process at NEPO. We require suppliers to offer additional value in the form of social value activities as part of their bids to us. This can take many different forms including offering training, apprenticeships, and also community volunteering days like today's beach clean.

"I would encourage any supplier who works with us to contact Seascapes to see how they can get involved in helping protect our coastline here in the North East."
More than 14 bags of litter collected, helping prevent man-made litter enter our ocean and damage our marine life.
SeaScapes is a four-year programme funded by The National Lottery Heritage Fund that focuses on boosting visibility and helping communities and individuals to better understand and protect our oceans and coastline. Hosted by Durham County Council, the £5m coastal project benefits communities in South Tyneside, Sunderland, Durham and Hartlepool.
Michael Burn, access and volunteer officer at Seascapes, recently said:
"Beach cleans are really important because we don't realise where a lot of our litter ends up, and when it ends up in the ocean it can cause a real problem. Litter can enter the food chain for wildlife and it can start breaking down and becomes micro-plastics, which cause problems for us as well. So by picking up the larger pieces of litter has a huge impact.

"We're starting to see the affect of these beach cleans have had already, the beaches we visit appear cleaner and people are congratulating us on our hard work. A huge thank you to everyone who helped out on Jackie's Beach today."
For more information on volunteering your time with Seascapes, please visit: exploreseascapes.co.uk
Latest News from
NEPO