Monday 20 Nov 2023 @ 16:15
NEPO
NEPO branches out to help plant Great Northumberland Forest
More than 300 tree saplings have been planted in Northumberland by local procurement organisation NEPO and business water supplier Wave.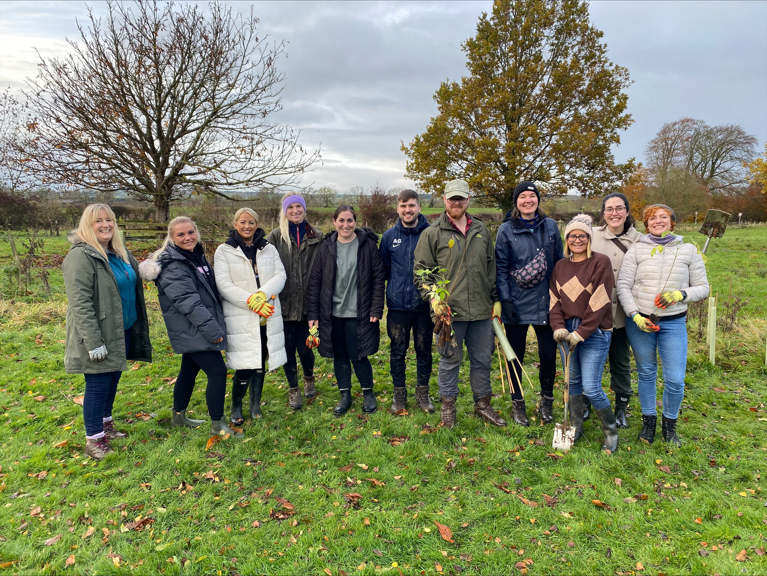 In a bid to help protect and enhance the natural environment, Wave partnered with the Great Northumberland Forest to create a shelter belt of native species trees and large shrubs around the boundary of cricket ground at Stamfordham Sports Pavilion.
Organised by NEPO's sole water supplier, a total of 24 volunteers clocked up valuable volunteering hours, with representatives from Wave, NEPO, Northumberland County Council and North Tyneside Council.
Nigel Corfield, Director of Industrial and Commercial Customers at Wave recently said:
"Volunteering days like this are all part of our social and sustainability promise which is built on four pillars: our company, our people, our customers and community and our planet. What we try to do at Wave under those four pillars is to drive a positive difference in society and in industry, and it's great to have our partners and our customers join us for the day to support this initiative.

"The activities carried out here in Stamfordham will help the local community. By planting trees we're creating a shelter belt which will act as a corridor for wildlife to improve the biodiversity and amenity of the area."
Social value is an important part of NEPO's procurement process, ensuring suppliers offer additional value as part of their bids. This takes many different forms including offering training, apprenticeships, as well as community volunteering days.
Laura Kyle, Energy specialist at NEPO, said: "Social value is integral to everything we do at NEPO, its built into every framework that we deliver, from inception all the way through to contract delivery. Our team have found today really beneficial – it's great to be outdoors, great doing something to help the local community and great to give something back."
A total of 1,500 native tree saplings will be planted at Stamfordham Sports Pavilion as part of the wider Great Northumberland Forest scheme.
Hosted by Northumberland County Council, the scheme focusses on planting the right tree in the right place, for the right reason, with the right management, balancing the needs of nature and the rural economy with the interests of people, communities, landowners, and land managers.
Mark Child, Great Northumberland Forest programme manager, recently said:
"The Great Northumberland Forest is a plan to establish millions of trees, creating more wooded landscapes across the county by 2030. This will help tackle some of the big challenges facing society, such as climate change, biodiversity decline, while promoting health and wellbeing, and supporting a thriving local economy.

"Schemes like this provide great added value with community engagement and opportunities for people to come and volunteer. If you want to get involved through volunteering to plant trees, or if you're a landowner or land manager and could provide land for us to plant, please get in touch."
Find out more about the Great Northumberland Forest here.
Latest News from
NEPO