Friday 10 Sep 2021 @ 16:10
Ministry of Housing, Communities & Local Government
New Wolverhampton Housing HQ unveiled
Communities Secretary Robert Jenrick officially unveiled the MHCLG's second headquarters in Wolverhampton – the first of its kind outside of London.
Communities Secretary hails historic milestone of the first new government HQ outside of London
100 staff have been recruited with around 150 more people set to be based here by next April
This is part of wider government plan to move 22,000 roles out of Westminster and increase diversity of voices in the Civil Service
Communities Secretary Robert Jenrick today (10 September 2021) officially unveiled the Ministry of Housing, Communities and Local Government's (MHCLG) second headquarters in Wolverhampton - the first of its kind outside of London.
The headquarters will, for the first time, have a regular ministerial presence outside of the capital. The historic milestone demonstrates the government's commitment to levelling up all areas of the country; MHCLG plays a key role in supporting communities to unlock their full economic potential, and the new office, based in the i9 building in the heart of Wolverhampton, will help create jobs throughout the West Midlands.
Recruitment is happening at pace in Wolverhampton and across the wider region for a range of roles and levels, from entry grade to senior civil servants.
With a mixture of new recruits and staff choosing to relocate to the new office, the department plans to have between 150 and 250 people based here by April next year, with preparations under way to welcome staff to the new headquarters.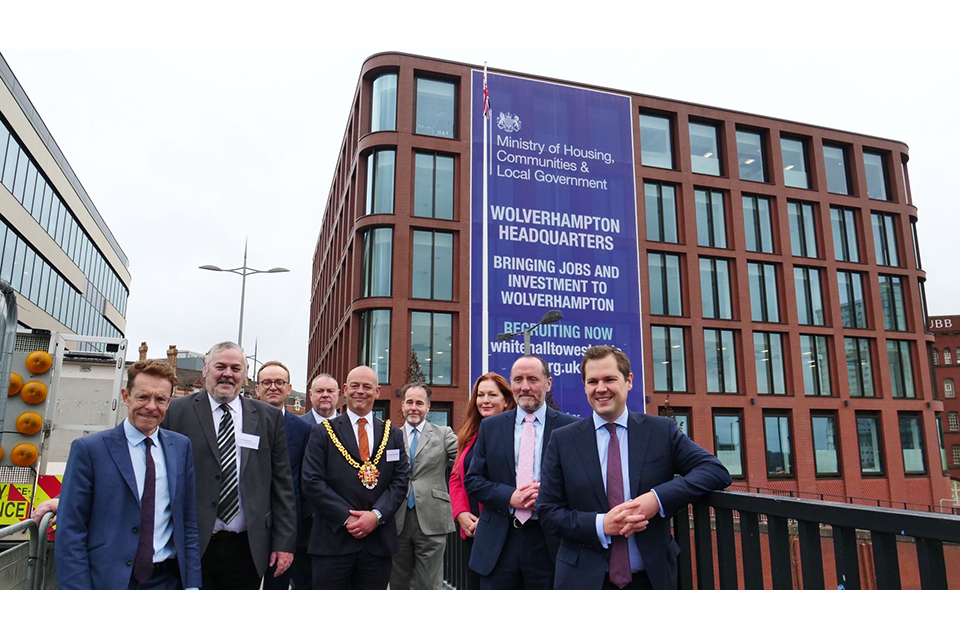 Communities Secretary Robert Jenrick said:
I am thrilled that our second headquarters in the i9 building in Wolverhampton has now been officially unveiled and we look forward to welcoming staff to the office, and working here myself along with our other ministers.

We are levelling up all across the country, and our headquarters in the heart of Wolverhampton will bring hundreds of exciting jobs to the city and drive growth across the region.
The new headquarters will provide an opportunity to bring people with different experiences and ideas into the Civil Service and provide improved employment opportunities for those in Wolverhampton and across the West Midlands.
Local voices are vital to influence the creation and delivery of government policy; by moving hundreds of roles out of Westminster we are providing a unique opportunity to develop and expand the UK Civil Service by bringing decision making into the regions we serve.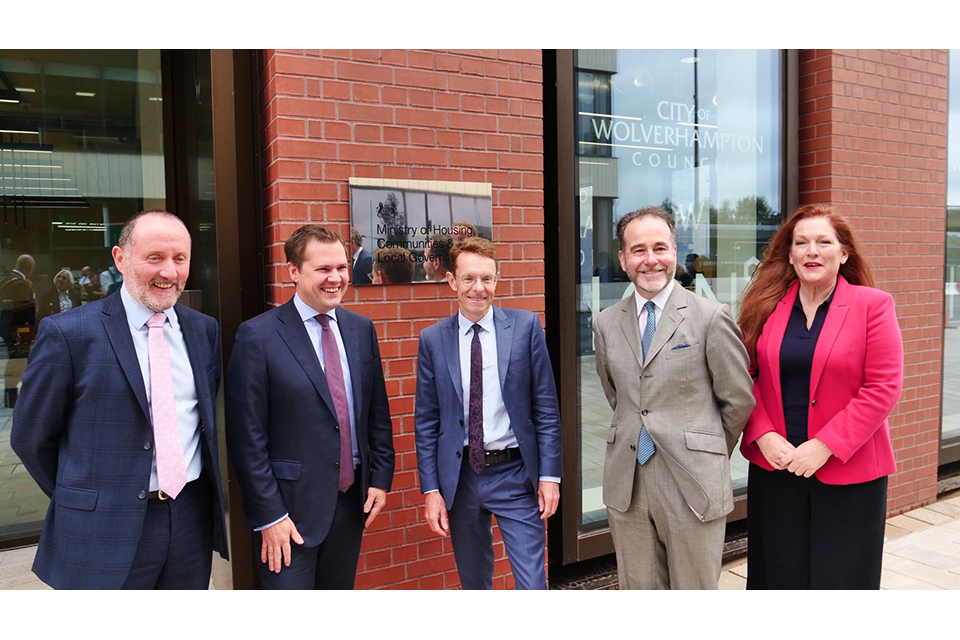 Office address and general enquiries
2 Marsham Street
London
SW1P 4DF
Contact form https://forms.communit...
General enquiries: please use this number if you are a member of the public 030 3444 0000
If your enquiry is related to COVID-19 please check our guidance page first before you contact us - https://www.gov.uk/guidance/coronavirus-covid-19-guidance-for-local-government.
If you still need to contact us please use the contact form above to get in touch, because of coronavirus (COVID-19). If you send it by post it will not receive a reply within normal timescale.
Media enquiries
Email newsdesk@communities.gov.uk
Please use this number if you are a journalist wishing to speak to Press Office 0303 444 1209
Social media – MHCLG
Twitter – https://twitter.com/mhclg
Flickr – http://www.flickr.com/photos/mhclg
LinkedIn – http://www.linkedin.com/company/mhclg
Latest News from
Ministry of Housing, Communities & Local Government