Tuesday 30 May 2023 @ 16:20
Association for Project Management
Project community in the Channel Islands to benefit from new APM Branch
Association for Project Management (APM), the chartered membership organisation for the project profession, has announced that it is launching a new branch in the Channel Islands, which will bring together the local project community, enabling them to network, learn and share knowledge.
APM currently has 13 branches across the UK – run by a team of dedicated committee members – which provide high quality events and learning opportunities for the project professionals they represent in their region, as well as helping them with their continuing professional development (CPD).
APM's Channel Islands Branch will support the project profession locally, raising awareness of project management, training and development, as well as working with schools and colleges about the value of project management apprenticeships. It will also work with local businesses and civil services to encourage them to put together cohorts of people to take APM qualifications and ultimately apply for Chartered Project Professional status (ChPP).
Scott Crittell, ChPP, who is a Fellow of APM (FAPM) and Project Manager at the Butterfield Group in Guernsey, is a committee member of the new branch. He said:
"We are delighted that the Channel Islands will now have its own autonomous branch serving the project profession across the islands. Together with fellow committee members, we have spent the last few years gradually building awareness of project management as a profession in its own right, and the importance of professional training and qualifications, including APM chartership. Project management is sometimes seen as a bolt-on to the day job, and companies often fail to understand that project management work is a distinct role requiring specialist skills.

"The project profession is undergoing considerable growth. Many important sectors here on the Channel Islands such as financial services, construction, civil services, tourism/hospitality and healthcare all have strong project management requirements. Having a dedicated branch, represented by the only chartered body for the profession will have tremendous value and bring greater validity to the profession as a whole. We look forward to working with APM on an exciting programme of events and opportunities including training and development for individuals at all levels – including those people doing project related work but who might not necessarily have the title of project manager."
Scott is joined on the Branch's committee by Ed Mason-Smith, ChPP (Chair) and other committee members including Stephen McAlister, ChPP and Adam Brown, FAPM. They will also be joined by a network of local volunteers who will be involved in locally run events and support the advancement of the project profession across the Channel Islands.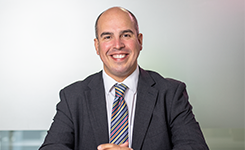 Professor Adam Boddison OBE (pictured), Chief Executive of APM, said:
"It was fantastic to meet so many members of the project community on my recent visit to the Channel Islands and to see the profession enjoying such growth. The new branch will help to support project professionals working across different sectors where project management skills are so important, and to help encourage people to look to project management as a career path in the future."
If you're interested in joining the new APM Channel Islands Branch, or would like more information, please email Scott Crittell.
APM Channel Islands Branch Committee Members:
Ed Mason-Smith (Chair)
Harriet Gowan
Scott Crittell
Adam Brown
Stephen McAlister
Simon Tidd
Caroline Read
Eliot Lincoln
Jerry Willis
Kate Gosson
Katie Lumley
David Mason
Kimberly Marriott
Mike Culverwell
Paul Marshall
Rebecca Berry
Latest News from
Association for Project Management